Ho ezame elektrónika ba Funsionáriu Públiku sira hodi halo mudansa ba sira nia Grau, minimiza krítika, protesta, deskonfiansa, deskontentamentu husi kandidatu sira durante prosesu.
Lia hirak ne'e hatoo husi Prezidente Komisaun Funsaun Públika Faustino Cardoso Gomes durante enkontru entre Prezidente, Komisárius, Juri no ekipa tékniku sira wainhira halo avaliasaun ba prosesu ezame promosaun de karreiras Funsionárius iha Salão Aikurus Binani Matadouro, Dili iha Kinta-feira, 22/09/2022.
Tuir Prezidente katak, ezame promosaun liu husi elektrónika ne'e kompara ho ezame manual karik sai kumplikadu, potênsia de fraudes, deskonfiansa, hamosu problema oi-oin no seluk tan no konsidera bele hakat liu situasaun sira ne'e, tanba ho polítika ne'ebé klaru hosi Komisaun ne'ebé asegura integridade prosesu, asegura kredibilidade prosesu no asegura auto konfiansa ba kandidatus ida-idak.
Ho polítika foun ida ne'e no ema hotu nia servisu hamutuk hodi asegura prinsípiu the right man on the right place, adianta Prezidente.
Iha Evaluasaun, Juri Cornélio dos Santos da Silva relata difikuldades ne'ebé funsionáriu balun hasoru katak, kandidatus barak lahatene uza komputador, dudu mouse no lahatene lee, ainda mais ke balun grau boot sira laiha koñesimentu ba komputador.
Relasiona ho problema komputador Komisáriu António Freitas ne'ebé trata asuntu kona-ba Formasaun no Dezenvolvimentu hateten, Komisaun liu husi Diresaun Nasional Planeamentu Kuadru Pesoal Funsaun Públika halo diseminasaun no formasaun ba funsionáriu iha teritóriu laran tomak, maibé barak sei problena nafatin ho komputador signifika, problema sei iha Rekursus Umanus tanba sira nia naran alistadu hotu ona no tenke hatene utiliza komputador. Alende ne'e KFP hamutuk ho INAP asina ona akordu ho SOLS, sentru formasaun sira hodi fó formasaun ba funsionáriu sira ne'ebé lahatene uza komputador. Ba formasaun hirak ne'e mak konsege realiza ona iha munisípiu Ainaro, Aileu, Baucau, Manatuto, Díli inklui RAEOA.
Maske nune'e Komisária Maria de Jesus Sarmentu trata asuntu ba Administrasaun Finansas Baze Dadus Protokolu no Komunikasaun hateten, ho informasaun kona-ba sistema ne'e sai sasukat ida, atu hotu-hotu tau hanoin no ideia oinsá bele hadia iha futuru oin mai.
Nune'e, durante enkontru evaluasaun servisu ba promosaun, Komisaun Funsaun Públika hamutuk ho painel membru juri sira husi grau A – G inklui apoiu tékniku ba promosaun nian iha tinan 2022 nian, membru painel juri sira rekomenda ba Komisaun Funsaun Públika hanesan ba formasaun ba funsionáriu públiku sira ne'ebé menus koñesimentu iha komputador inklui formasaun seluk hodi koresponde ba pontuasaun promosaun nian no nune'e asuntu inteligadu sira seluk ne'ebé mak Komisaun anota hodi hadia ba oin.
Kandidatu sira elejibel ne'ebé tuir ezame promosaun iha tinan 2022 hamutuk 7885.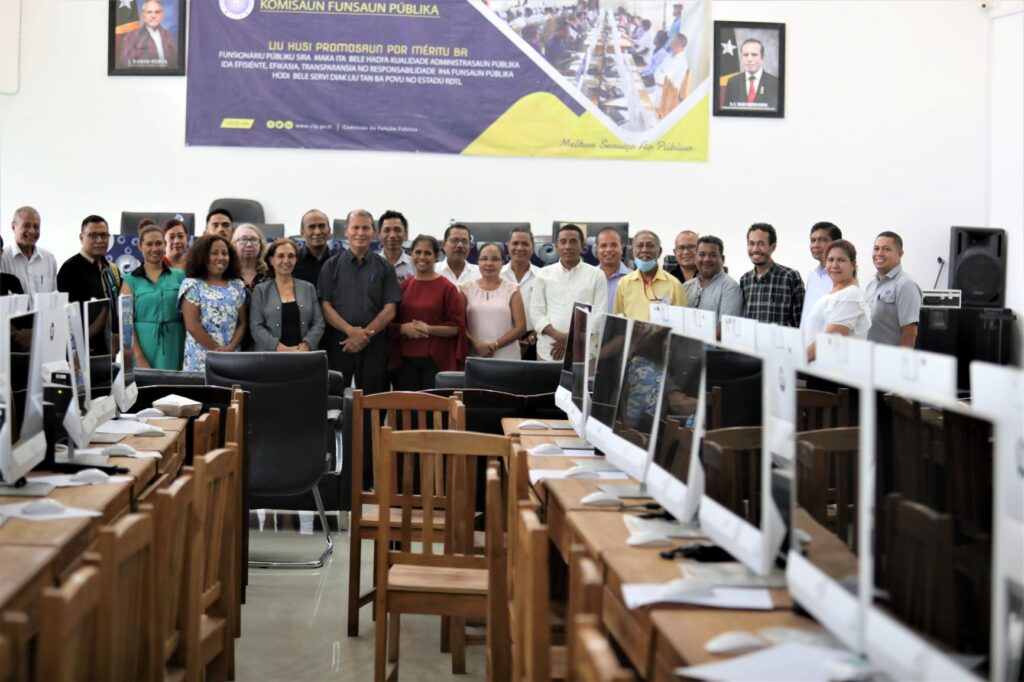 .